Ada dua saham yang menarik untuk kita lihat hari ini, yaitu BRPT dan SMBR.
Keterangan: Ini adalah murni hasil screening team analyst TemanTrader.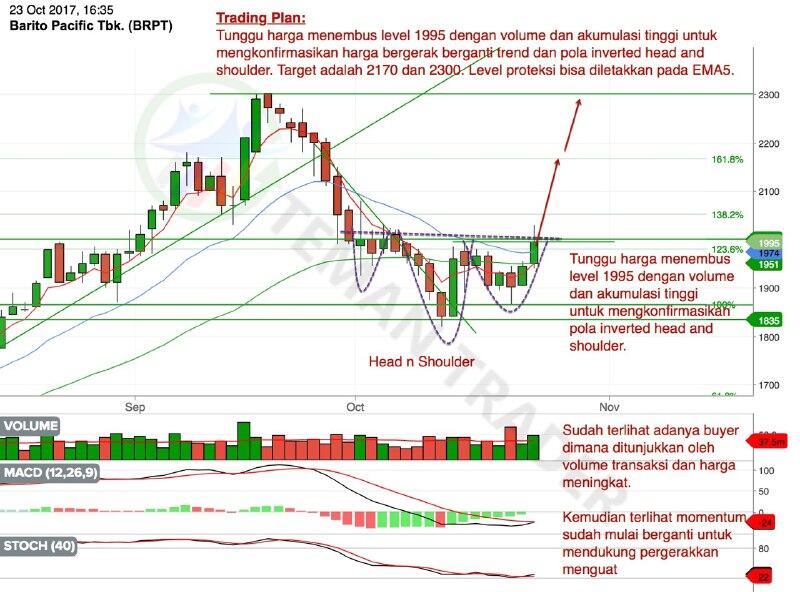 Chart BRPT
Saham BRPT, Tunggu harga tembus 1995 dengan volume dan akumulasi tinggi. Target adalah 2170 dan 2300 Jika harga memang menembus level 1995 maka terkonfirmasi harga berubah trendnya dan mengkonfirmasikan pattern inverted head and shoulder. Level proteksi ada di level EMA5 ketika harga menembus level 1995 tersebut.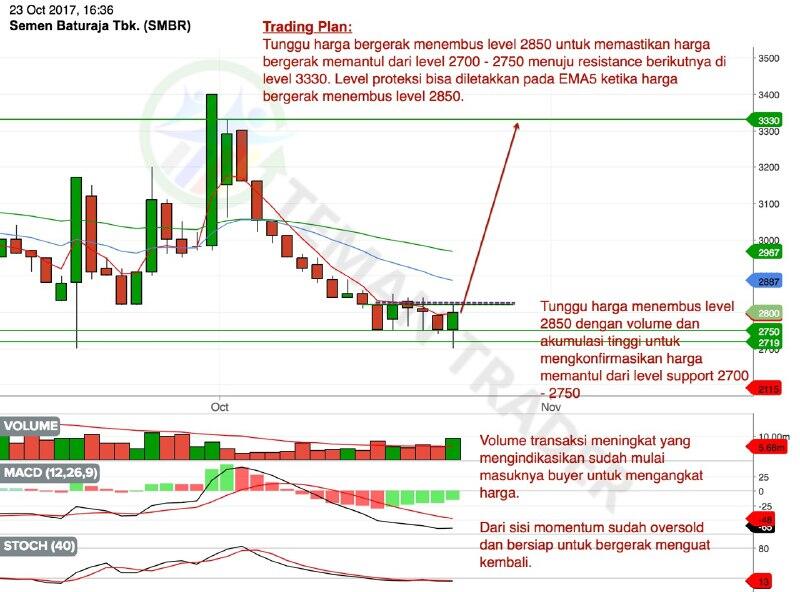 Chart SMBR
Saham SMBR, Tunggu harga tembus 2850 dengan volume besar dan akumulasi. Target adalah 3330. Jika harga memang menembus level 2850 maka terkonfirmasi harga memantul dari level support 2700 – 2750 Level proteksi ada di level EMA5 ketika harga menembus level 2850 tersebut.
Summary dari plannya dapat dilihat pada tabel dibawah yah

Summary Plan BRPT dan SMBR
Itulah kedua saham yang masuk watchlist untuk diperhatikan besok 24 Oktober 2017. Semoga membantu teman-teman dalam memilih sahamnya, dan bisa jadi pilihan untuk analisa lebih lanjut.
Salam profit konsisten
Teman Trader
We aim to make stock trading experience easy, simple, and yet profitable
Join Komunitas Teraktif
TETRA PERSONAL GRATIS TRIAL 7 hari: http://bit.ly/2yrif82 (free short course 1 hari)
Channel: http://t.me/temantrader
Group: http://t.me/tetrachat
LINE: http://line.me/ti/p/@temantrader
KASKUS: https://kask.us/iszP1
Investing: http://bit.ly/2xjKubR
Disclaimer
Highlight dan rekomendasi saham kami adalah murni hasil analisa kami dan untuk kepentingan edukasi. Realisasi dari rekomendasi kami adalah keputusan akhir dari teman-teman trader. Pastikan eksekusi trading disesuaikan dengan money management yang baik dan benar.